CooperVision awards 2016 FORCE Student of the Year
Teams from nine countries competed in the 2016 CooperVision FORCE Student of the Year final at the Centre of Innovation, Budapest, Hungary
Southampton, United Kingdom, May 2016 — Global contact lens manufacturer CooperVision has announced that the 2016 CooperVision FORCE Student of the Year is Izabela Garaszczuk, a student from Wroclaw University of Technology in Poland.
This year's FORCE (Future Ocular Research Creativity Event) final took place at CooperVision's Centre of Innovation in Budapest, Hungary on 16th April. Teams of students and educators from nine countries took part.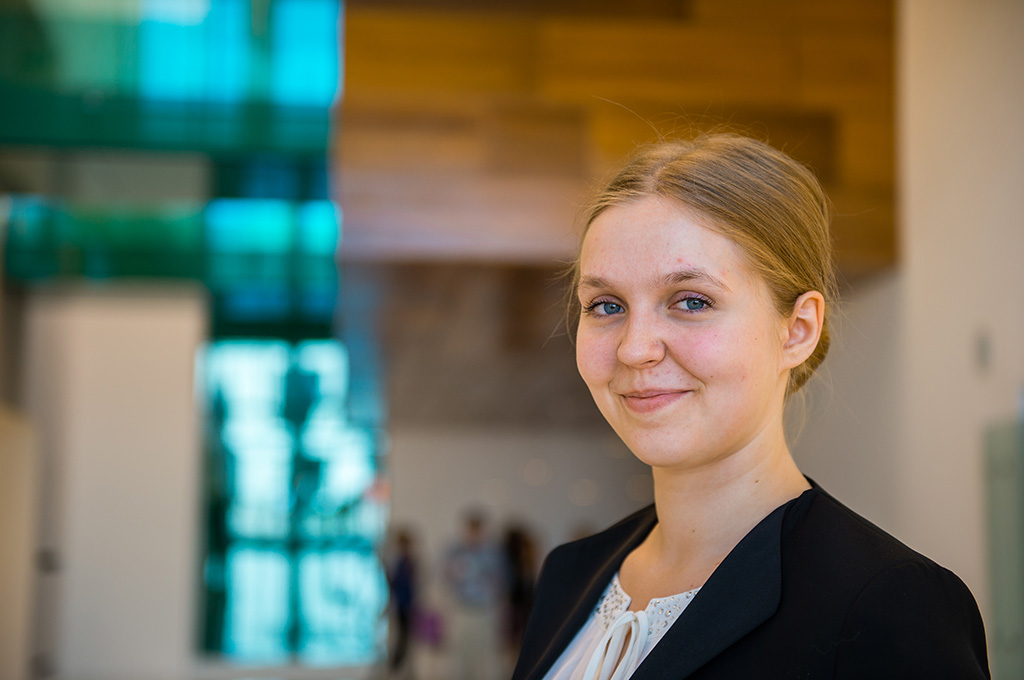 CooperVision FORCE Student of Year, Izabela Garaszczuk
Overall winner Izabela, supervised by Dr Robert Iskander, had evaluated tear turnover rate using two techniques – Fourier transform profilometry (Eye Surface Profiler) and optical coherence tomography (OCT) – that allowed direct assessment of tear film dynamics across the whole ocular surface.
Second place went to Michela Marton from the University of Milano-Bicocca, Italy for her study of a glaucoma drug-delivery system using a bio-polymer contact lens. Romana Khaliq, a student at Glasgow Caledonian University in Scotland, took third place for a comparison of tear evaporation rates between two contact lens materials under different environmental conditions.
FORCE is an annual competition in the field of contact lenses pitching the very best students from colleges and universities all over Europe against each other. Students are invited to undertake a research project on a contact lens-related subject of their choice and to present their findings.
Winners from each country go forward to the FORCE European final for a chance to become CooperVision FORCE Student of Year. The prize is a full delegate package, including travel and accommodation, to attend an international contact lens meeting.
This year's finalists and topics were:
Tereza Černohousová, Czech Technical University, Prague, Czech Republic
Supervisor: Professor Ing Jiří Novák
Influence of aberrations on basic vision quality parameters.
Izabela Garaszczuk, Wroclaw University Of Technology, Poland
Supervisor: Dr Robert Iskander
Tear turnover rate evaluation with Fourier transform profilometry and optical coherence tomography
Romana Khaliq, Glasgow Caledonian University, Scotland
Supervisor: Dr Ian Pearce
The effect of contact lenses on tear evaporation rate.
Nathalie Klaassen and Christy van der Plaat, University of Applied Sciences, Utrecht, The Netherlands
Supervisors: Louise van Doorn and Mirjam van Tilborg
Time required to reach stability after long-term contact lens wear.
Pontus Løth, Pernille Holm Ibsen and Andreas Christiansen, Copenhagen School of Design and Technology, Denmark
Supervisor: Associate Professor Lars Bo Delkus
The association between myopia, pupil diameter and cataract.
Marina Martín and Rocio Robledo, European University Madrid, Spain
Supervisor: Christina Alvarez Peregrina
Pilot study of the effects of multifocal lenses, comparing quality of life between wearers of spectacles and contact lenses.
Michela Marton, University of Milano-Bicocca, Italy
Supervisor: Silvia Tavazzi
Realisation and characterisation of a biopolymeric material functionalised for contact lenses.
Réka Szántai and Katalin Varga, Semmelweis University, Budapest, Hungary
Compromises of multifocal contact lenses.
Mehdi Yahiani, University of Paris-Sud, Orsay, France
Supervisor: Frédéric Ponche
Soft contact lenses to control myopia.
Judging the projects were researchers and clinicians Elena Garcia Rubio (National Institute of Optometry, Madrid, Spain), Giancarlo Montani (University of Salento, Lecce, Italy), Pascale Dauthuile (University of Paris-Sud, France) and Dr Beáta Tapasztó (Semmelweis University, Budapest, Hungary), along with Chairman Nick Rumney (Hereford, UK).
Entries were invited for clinical trials, clinical review papers and case reports, and were judged for the evidence for and importance of the project, and the quality and clarity of presentation.
Presenting the awards on behalf of the judges, Nick Rumney said that the standard of entries had risen each year and this had been the closest competition yet. He congratulated all the students on reaching the final: 'Your future is secured, you will complete your studies, and you will grow professionally and personally from this experience.'
Awarding the overall prize, he added: 'Izabela began by asking a question, revisiting a technique and then bringing it up to date with very new technology. I hope we hear more of this in the future. Her study was well presented and she told a good story with the passion of a researcher.'
Izabela commented: 'The level of competition was so high and the presentations were amazing. Taking part in FORCE has pushed me further and it will help me a lot. I've met some wonderful people and established contacts in my field of study.'
Nick went on to describe the FORCE final as the highlight of his year: 'CooperVision recognises that our student optometrists are more than just the practitioners of tomorrow but are future leaders in practice, in science, in teaching and in industry. The investment of visionary companies like CooperVision makes me proud to be a small part of that,' he said.